Book Review: Welcome To Adulting: Navigating Faith, Friendship, Finances, and The Future by Jonathan Pokluda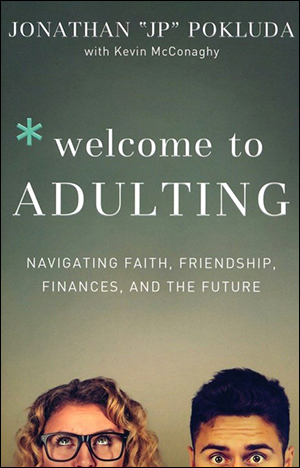 Welcome To Adulting: Navigating Faith, Friendship, Finances, and The Future (Amazon) by Jonathan Pokluda. Grand Rapids: Baker Books, 2018. Total pages: 212.
In 2015, the word "adulting," according to Cosmopolitan, increased its use on Twitter 700%.1 The noun, turned verb, and then back to a noun, was traced to its first use in a 2008 tweet, according to Time Magazine.2 The author used the Google dictionary definition of "Adulting" as, "The practice of behaving in a way characteristic of a responsible adult, especially the accomplishment of mundane but necessary tasks."3
Adulting is very personal to the author of the book. A son of a counselor and a typical young adult whose college years were wasted on "fun," Pokluda quickly moves the reader from a gripping personal story of immaturity and pursuit of money, power, and toys, to finding purpose in life. As a pastor to young adults, Pokluda placed himself as an expert in the field, not only because of his first-hand experiences, but also for his countless hours of counseling young adults--mainly from his 4,000 member Dallas-Fort Worth ministry called Watermark.
Pokluda's experiential research allowed him to choose ten subjects most relevant to young adults. Unlike many blogs, vlogs, and other literature that deal with the theme, the author chose core, meaningful, and God-centered subjects that move from the surface of the mundane tasks of adulting to appealing to the heart of the matter: Obedience to God's revealed will. "How can anyone aspire to know specific instructions about one's life when living in defiance to God's revealed principles?"4
What follows is an anecdotal and biblical perspective on topics such as purpose, responsibility (authority, work, and money) and community, including conflict and dating. The final segments cover three personal topics that were relevant for the author during his quarter-life crisis as well as for many today: Worry, recovery and eternity.
God wants his children to live, and to live abundantly (Jn 10:10). Therefore, the Bible contains many time-proven, guiding principles meant to direct the believer's life. God created humankind as a masterpiece and then gave natural and supernatural gifts, talents and abilities (1 Cor 12) that allow the individual to discern God's specific will in the context of the general purpose of service and disciple-making (Eph 2:10; Mt 28:19).
Additionally, the Bible has much to say about handling money, submitting to authority, and work. But the question of "Who am I?"—identity— can be answered from the individual's situational perspective; for instance, occupation (I am a student), gender (I am a young adult male), or even past negative experiences (I am an alcoholic). However, when looking at one's identity from the perspective of eternity, occupation or status, or even personal appearance has little value. Keeping in mind that an average life-span of seventy-eight years is still relevant; "don't be so heavenly minded that you're no earthly good." Pondering identity (true identity in Christ), evaluated from the perspective of eternity, is a great exercise that brings to the surface the true value of the believer.
This book is not a how-to guide to adulting. The chapters start with personal anecdotes and quickly move to deeper theological and philosophical grounds, using a direct and simple style of writing. Although not exhaustive on any of the topics, this book could be a great starting point for post-collegiate young adults with Christian backgrounds seeking to find their way into defining identity and purpose. In reality, a Christian life philosophy might be a more appropriate content description, which is relevant for all ages.
Pokluda makes a biblically grounded case for community. The author clearly articulated his preference on homogenous communities of close age range in the context of adulting. Furthermore, he differentiated peer communities from multigenerational communities, purposely taking mentorship (discipleship) out of the equation.5 However, there are instances in which the author alludes to learning from multigenerational groups or concurs regarding their benefits. For instance, in the opening chapter, the author recounted how belonging to a same gender multigenerational community became his turning point marker. Later on, in the chapter about dating, the author briefly highlighted the benefit of family input in the decision making of the young adult. And once again, in the chapter on authority, the intergenerational factor is present.6
Scholars such as Sharon Daloz Parks consider mentoring communities in which peers and adults are present to be a great asset for young adult development. Excellent examples of mentoring environments include churches, families, and "travel-with-purpose."7 Enhancing the community application to clearly include the benefits of multigenerational community in the development of young adults could enrich the conversation on adulting. This could be done with the topics of identity formation, purpose, direction, and belonging. Additionally, examples of where and how to initiate or join such a mentorship environment would be an excellent addition to this fine book.
---
1 Tullo Danielle, Why You Need to Shut Up About "Adulting." Cosmopolitan, June 2016. https://www.cosmopolitan.com/lifestyle/news/a58946/stop-adulting/
2 Steinmetz, Kathy. This is What Adulting Means. June 8, 2016. https://time.com/4361866/adulting-definition-meaning/
3 Jonathan Pokluda, Welcome To Adulting: Navigating Faith, Friendship, Finances, And The Future (Grand Rapids: Baker Books, 2018), 9.
4 Ibid., 12.
5 Pokluda, Welcome To Adulting,107.
6 Ibid., 11, 19, 131.
7 Sharon Daloz Parks, Big Questions Worthy Dreams: Mentoring Young Adults In Their Search For Meaning, Purpose, and Faith (San Francisco: Jossey-Bass, 2000), 184, 192, 202.