Book Review: Volunteers: How to Get Them, How to Keep Them!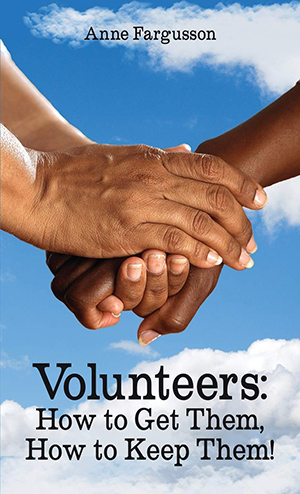 Volunteers: How to Get Them, How to Keep Them! by Anne Fargusson. Elm Hill. Nashville, TN. 2020. Total pages: 46.
Those involved in ministry know that churches rely on volunteers for most of their ministry. Of course this is all done under the auspices, power, and direction of God. But many struggle to secure volunteers for various ministries, especially those who do so for sustained periods of time.
The author, a spouse of an SDA pastor, volunteered as a children's ministry leader while working full time as a nurse and being the mother of twin boys. This pamphlet described her experiences, gleaning insights that can be used by others. These include both specific strategies as well as key principles.
For example, when her children were young, the parents took them to volunteer as a family with Meals-on-Wheels. She saw this as one of the seeds planted in her sons the led to them to other service activities as they made their own personal choices. Today, both sons are ER docs. For an example of a key principle, Fargusson identified that people want to be part of something that changes lives. The invitation to volunteer needs to be seen through those eyes, not, "Will you do this task at church because we can't get anyone else to do it?"
The booklet reads like a fireside chat rather than a textbook or strictly organized categories. With less than 50 pages, any church leader could read it quickly and identify practices already incorporated as well as helpful clues to improve their collection of volunteers.
Here are a few of the gems that garnered my attention. Choose volunteers for specific tasks, such as one part of Sabbath School rather than overseeing the entire program. Rotate leaders so a team carries the load and individuals aren't as likely to burn out. Be sure your purpose is clear so volunteers know their target and their purpose. Find ways to express appreciation, whether that's with small gifts, public recognition, personal words of affirmation, or spending time with them. In addition to providing support, also follow through with accountability—this matters!
Depending on your current role, you may want to simply read this and grab tidbits and concepts useful for you, or you may want to provide it for a variety of your key leaders who oversee a team of volunteers in ministry. You may find yourself adding your own experiences as well, and invite others on your ministry team to do the same.
---
| | |
| --- | --- |
| | Steve Case, PhD, an ordained SDA pastor, volunteers at his local church in Carmichael, CA. |