Book Review: Understanding & Relating to Asian American Youth: A Korean-English Bilingual and Intergenerational Conversation Toolkit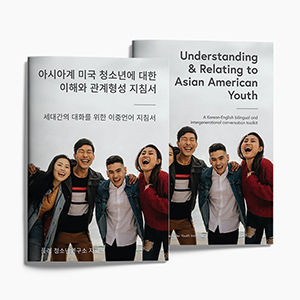 Understanding & Relating to Asian American Youth: A Korean-English Bilingual and Intergenerational Conversation Toolkit by Fuller Youth Institute. Published by Fuller Youth Institute, 2019. Total pages: 37.
This pamphlet is a useful tool in helping churches to better understand Asian-Americans and to minister to them. It's available in both English and in Korean. It begins by defining "Asian-Americans" and explains how to better understand the mindset of this particular culture. It addresses the difficulties and challenges that Asian-Americans go through in this country as others label them with certain stereotypes. The two stereotypes mentioned in the pamphlet are the "model minority myth" and the "perpetual foreigner label."
Many second-generation Asian-Americans suffer from this model minority myth when others expect them to live up high standards. It is important that parents (and church leaders) understand this and make sure that they do not bring more stress to second-generation Asian-Americans. The lack of conversation in Asian families might be seen as a matter of culture. Parents unable or reticent to express affection and other feelings create more pressure on the second-generation Asian-Americans. This pamphlet provides some practical conversation guidelines and useful icebreaker questions to start a conversation. It can free Asian-American young people from the "model minority myth" when parents let their children know they don't have to excel in everything.
The internal term used among Asian-Americans is "banana"— yellow on the outside but white inside. This very well describes the stress created from the perpetual foreigner label stereotype. Even though Asian-Americans look completely Asian on the outside, they are American in the way they think, speak, and live. Yet because of physical appearance, Asian-Americans find themselves perceived as foreigners. To add to the stress, Asian-Americans feel conflicted when Asian values and American values collide. The complexity of these issues brings a lot of stress and difficulties for Asian-Americans. The pamphlet includes practical activities and guidelines churches can implement to provide for the needs of this particular culture. These activities can help to loosen the stress and negativity Asian-Americans face in their everyday lives and also allow room for genuine connection from one to another.
It would have been nice if the pamphlet went a little bit deeper addressing the challenges of Koreans as this pamphlet written in both English and Korean. The pamphlet mentions in the beginning, "Asian-Americans are not a monolith, but include people groups from East Asia, Southeast Asia, South Asia, and the Pacific Islands" (p. 7). Grouping these various countries into a "Korean" pamphlet misses the point. The cultures vary, as do physical appearance of these Asians. This pamphlet does not accurately address all the issues for Korean Americans but simply generalizes the issues of all Asian-Americans.
This does not mean this pamphlet lacks value. I am an Asian living in the United States and I have two young daughters who were born here. This pamphlet addresses many of the issues I will face as my wife and I raise our children in this country. Whether you are living in a major city with a multi-ethnic setting or living in the countryside as a minority among one primary ethnic group, this pamphlet can be a useful guide for parents and ministry leaders.
---
| | |
| --- | --- |
| | Myoung Kwon, MDiv, is the pastor of the Waukesha District in Wisconsin. |