Book Review: Real, Deal, Heal: Gen Z and Social Issues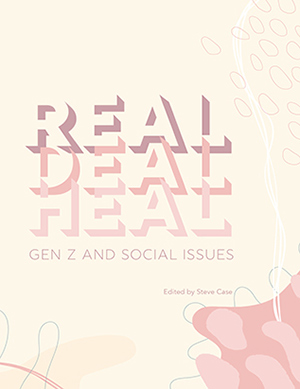 Real, Deal, Heal: Gen Z and Social Issues edited by Steve Case. AdventSource. Lincoln, NE, 2021. Total pages: 99.
Conversations with young people are never easy. Deep discussions become even more complicated when adults need to understand issues from the perspective of young people. It seems the challenge gains greater significance with non-doctrinal topics. Sadly, the Adventist church lacks a reputation for talking about social issues. Mental health (59), LGBT+ lifestyle (67), and Human trafficking (51) for many within the church remain taboo topics. Mentioning these topics within the church context often gets relegated to a quick-fix answer: sinful consequences. Such an approach leaves adults and youth leaders without the necessary tools to reconcile the church and social issues with our youth. However, many young people today, especially members of Gen Z, thrive when it comes to discussing, denouncing, and engaging in social issues. The lack of information created a gap that begs for a presentation of such topics from a Biblical and academic perspective. This book intends to help shorten that gap.
The book contains thirteen articles written by different authors and presented at the 180° Symposium before the pandemic. All pieces fulfill three objectives. First, to present a social issue from an academic and biblical perspective. Second, to raise awareness in adults about a particular social issue and its relevance to young people. Finally, to offer a departing platform for conversation about the subject within the church.
As would be expected, each author draws on personal experience and immersion in their given subject. Expect statistical evidence, academic support, and anecdotal examples about their topic in each writer's unique style. For instance, in the chapter "Call for Social Justice within the Three Angels' Message" (43), Michael Nixon used a well-known Scripture passage used in Adventist preaching to identify a not-so-preached-about issue. The authors write with passion and purpose. Nonetheless, they make their presentation with clarity and relevance, giving the material weight and importance despite its delicate nature.
Older generations frequently have an aversion to identifying injustice, much less to stand against it. This book offers a welcomed opportunity for a conversation and evidence to engage Gen Z members in the social justice discussion. The book even goes further; it challenges church leadership to involve young people in social issues (37). The material raises the bar for any youth director, pastor, and church leader to encourage conversation, engage in change, and promote involvement in social issues from a Biblical perspective.
For youth professionals, leaders, and parents struggling to find a starting point in the social issue conversation or fearful of steering the discussion from the Biblical perspective, this book offers ample material to accomplish both. A word of caution, the material may not be what some might expect from a traditional, conservative Adventist worldview. Nevertheless, it has the potential to enlighten and inform. This means the reader needs an open mind and a learning spirit. In the end, the material will be found extremely valuable and a gemstone tool when dealing with the current social climate with young people.
---
| | |
| --- | --- |
| | Rogelio Paquini, DMin, teaches youth ministry at Andrews University in Berrien Springs, MI. His three Gen Z sons challenge him when it comes to conversations about social issues. |