Book Review: More Tips For Youth Leaders by Steve Case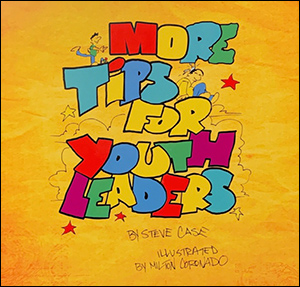 More Tips For Youth Leaders (AdventSource) by Steve Case, illustrated by Milton Coronado. AdventSource, 2020. Total pages: 104.
Have you ever wondered what a successful youth ministry might look like? Has anyone ever condensed the key principles of youth ministry into one, quick-reference collection? Could someone new to youth ministry skip some of the newbie challenges and mistakes so common in youth ministry rather than learning everything by trial-and-error over time?
Youth ministry can be difficult and confusing. Trends, music, media, and technology constantly change. What was hip and cool yesterday goes out of vogue in a heartbeat. Often volunteers fear being a youth leader because they think it is too difficult, too time consuming, or they simply don't understand the basics of being a good youth leader.
Steve Case, a leading expert in youth ministry, asked more than forty experienced youth ministry professionals their most important "tips" for new and aspiring youth leaders. He had done a similar thing 10 years earlier with Tips for Youth Leaders (also available from AdventSource). This sequel, More Tips for Youth Leaders, also relies on illustrator Milton Coronado who did an excellent job illustrating each key principle. For visual learners, Milton's cartoons might stick with you more than the one-liner tips.
Understanding key concepts of youth ministry gives direction to those aspiring to be youth leaders, youth directors, friends of youth, church members, or anyone who has an interest in working with young people. Many administrators, nominating committees, and church boards consider age the most important qualification for being involved in youth ministry. They often assume somebody young must be "good" at working with youth simply because of their age. That myth remains as erroneous as thinking an older person could not be effective with young people because of their age. A better qualification to lead young people is one's own relationship with God. The tips found in this little booklet can provide a crash-course for new youth leaders, and a refocus for veterans regarding what successful youth ministry looks like. Consider giving this short booklet as a welcoming gift to new youth leaders in your sphere of ministry.
Those who have contributed "tips" to this book have boiled down decades of ministry hoping to help those new to ministry skip some of the pitfalls that cause sleepless nights, unpleasant "come-to-Jesus" meetings with senior pastors, and unhappy conversations with displeased parents. These seasoned professionals have a combined total of more than 1,000 years of youth ministry experience.
Whether one is new to ministry, a long-termer, or someplace in between, this book is both serious and humorous while providing helpful suggestions that will make one's youth ministry rewarding. This quick, concise work provides powerful and helpful suggestions on youth ministry for someone who has a limited time budget.
---