Book Review: How to Talk to Any Young Person: An Intergenerational Conversation Toolkit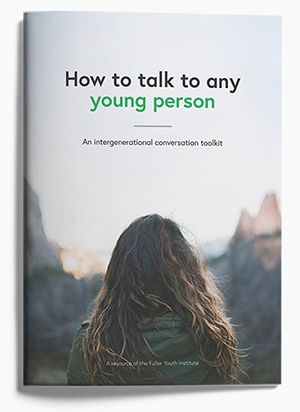 How to Talk to Any Young Person: An Intergenerational Conversation Toolkit by Daisy Rosales and Brad Griffin. Fuller Youth Institute, Pasadena, CA, 2016. Total pages: 26.
Fuller Youth Institute has produced this little booklet as a tool with tips to help older-generation people have meaningful conversations with teens and emerging adults they may not know well.
Within the first few pages it pictures the book Growing Young with the statement, "Definitive research on churches engaging young people." Of course! This little booklet corresponds with the Growing Young core commitment number two, entitled "Empathize with Today's Young People." Consider this an further explanation for how older people can put this core commitment into practice.
The thesis of this booklet is not clearly stated, but on page 10 one can deduce that it targets people beyond their 20s. It would be reasonable to state the thesis as an exploration for older-generation people to develop conversational skills and empathetic listening that will develop intergenerational relationships. Without question, the purpose of this book is to help adults engage in meaningful and relevant conversations with young people in this current era.
The booklet has five chapters. Chapter one covers the topic of where and how to develop intergenerational conversations. It considers: the setting, a focus on listening more than talking, asking follow-up questions, and avoiding doing all the talking yourself. Ultimately, adults make themselves present to listen and interject ideas, but not monopolize the conversation. Chapter two engages the reader with introspection. It asks self-reflective questions and provides lines to write one's responses in the booklet. Some of the questions include, What was it like when you were young? What do you think young people face today that you didn't face? It also asks the reader to think of some of specific young people and what one can do to be a support and advocate for them. Chapter three gives suggestions for conversational topics in the areas of home and family, daily life, community and church, as well as journey and spirituality. There are many great questions under each category, adding to the value of this resource. Chapter four specializes on conversations with boys and provides seven tips for the less-verbal gender. It suggests to, "be prepared to be changed by what you hear" (p 21). Finally, chapter five focuses on conversations with teenage girls and gives six tips for potentially talkative young ladies. Many times just listening with a non-judgmental ear proves to be more helpful then trying to help.
Late in the booklet, adults receive the reminder that teenagers "get wrapped up in the work of parting from childhood and moving toward adulthood. This is good, important, and even necessary work. But for parents and other caring adults it can feel painful" (p 22). We do not have to accept these transitions as "relational dead ends." Rather, adults are still needed, but in different ways and on different terms.
This booklet rates high as an invaluable primer on understanding how to relate and interact with emerging adults. It's short and to the point, even if it serves as a reminder of things adults often have forgotten. I highly recommend it as a simple teaching tool as well as a personal guide for strengthening one's own conversational practices.
While it's helpful to have separate chapters for two genders, these days it would be helpful to have another chapter addressing conversational topics when talking with teenagers experiencing gender dysphoria. The booklet stated, "As much as we are not huge proponents of overfocusing on gender differences, there is no escaping the social reality of boys and girls" (p 18). Because the booklet divided the genders, and the title of the booklet is, How to Talk to Any Young Person, the content seems incomplete. In this day and age, a chapter on gender dysphoria would be a welcomed addition. It should be added in a future edition.
---