Book Review: Growing With: Every Parent's Guide to Helping Teenagers and Young Adults Thrive in their Faith, Family, and Future by Kara Powell and Steven Argue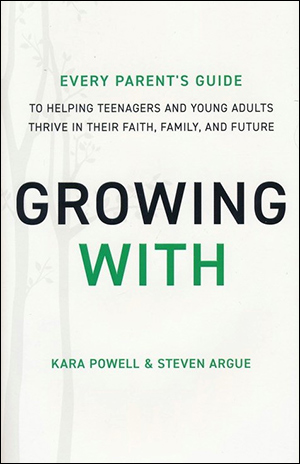 Growing With: Every Parent's Guide to Helping Teenagers and Young Adults Thrive in their Faith, Family, and Future (Amazon) by Kara Powell and Steven Argue. Grand Rapids: Baker Books, 2019. Total pages: 282.
The Fuller Youth Institute contributes another excellent resource for parents and those who work with young people. The co-authors define Growing With parenting as "a mutual journey of intentional growth for both ourselves and our churches that trust God to transform us all" (17). Drs. Powell and Argue provide fresh research and thinking in a clear and easy to understand manner.
The book presents three components for Growing With parenting as a process that "isn't about meeting your kid halfway... but more about being all-in" (44). These three words become verbs so that parents can make it the new active norm in their journey with their children: Withing, Faithing, and Adulting.
Withing is the growth that happens as families support one another as the children grow increasingly independent (37).
Faithing is "a child's growth in owning and embodying their own journey with God as they encounter new experiences and information" (39).
Adulting is the "child's growth in agency as they embrace opportunities to shape the world around them" (42).
The authors present a path that incorporates these verbs into the parent-child relationship. Teens (ages 13-18) are in a learner stage in which parents can be most helpful as teachers through "learning-centered teaching," not through commands and order. Explorers (ages 18-23) have to sort through many options in life, are best aided by parents who serve as guides, shifting "away from setting goals for [their] kids and toward guiding them on the journey of setting their own goals" (61). Lastly, focusers (ages 23-29), have decided on general life paths. Now they are concentrated in having a clearer focus on careers, intentional relationships, and their own beliefs. Growing With parents shift their role to connect with them as resourcers during critical point of their lives to share their own experiences.
One crucial point for parents who wish to "grow with" their teenagers and emerging adults is that they will recognize that their relationship with God is bigger than a day of worship and that not everyone sees God the way they do. Instead of the simplicity of childhood, they live in the tension of beliefs and doubts as their reality (53). The book reminds readers that what is toxic to faith is not doubt, but silence (146).
Each chapter in the book concludes with questions that are helpful for reflection, especially if one actually does so (space is provided to even write in responses). But I found practical examples to be limited, and those used tend to be quite vague (chapters 3 and 5 are exceptions). Individual context is important, and that may be a reason why the book hesitates to use more examples so parents can adapt as they see fit; though it's nice to see or read of examples that show what is possible.
It seems that the book's primary sweet spot is with parents of fairly intact families already involved in faith communities. It has limitations in regard to single parenting or families in major crisis. Separation anxiety from dropping off a daughter at college seems to be the most extreme stress, in comparison to poverty, rape, gang activity, depression, or other calamites that many parents face with their children. There is no mention of young people whose parents are AWOL. But "Withing" provides a great model for middle class Christian Americans to aid in the transition of their children through the elongating adolescence in life. The review of literature is helpful and extensive as well.
This book is a worthy contribution to be added to a Christian parents' library.
---