Book Review: Digital Discipleship & Evangelism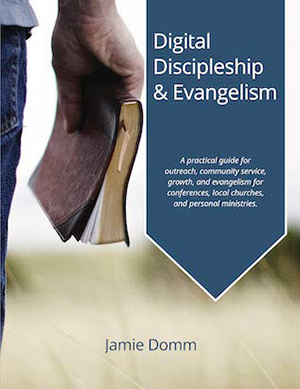 Digital Discipleship & Evangelism by Jamie Domm. AdventSource. Lincoln, NE. 2020. Total pages: 206.
How tech-savvy are you? Typically young people rate higher than most older people. Personnel at the North American Division (NAD) fit into the latter category rather than the former one. Imagine the challenge Jamie Domm had to move NAD toward digital ministry. Kudos to NAD for hiring Jamie, and for producing this robust resource for individuals, churches, and church leaders to make the paradigm shift to the digital age.
Some church leaders think if they have a church website, an email address, and maybe a Facebook page, they've entered the digital world. They have. But few have left their previous world of monitoring church attendance and printing a weekly bulletin. The coronavirus pandemic has forced churches to go more deeply into the digital age, or face extinction. Putting a video camera in the back of the church to record a church service and then posting that online exemplifies a weak presence in the digital age. This might be a golden opportunity to engage younger people in a paradigm shift to digital church.
For those not as familiar with digital parlance, statements like the following could be intimidating: Your SEO (90) will influence your EMV (110) and CTA (114), and could influence your UTM (190) as well as your CTR (190), which could help you assess the Rule of 7 (82) or even your digital door-knocking (175) so you'll know your ROI (143) and even how to repurpose your evergreen content (84). If that sounds like another language to you (or government agency acronyms), church members could become familiar with this by taking the plunge more fully into the digital world of today. This resource could provide a great start.
Startling statistics like only 20% of Americans regularly attending church and the average person spending almost three times as much time socializing online in contrast to socializing in person (6), being "incarnational" like Jesus, we must go to where people are. Put simply, they aren't at church. And yet people are literally "Googling God" (85). Just type in "Does God" on a search engine and notice all the options that fill after that. Instead of printing 10,000 flyers and distributing them door-to-door, go online and start answering the questions about God people already are asking.
Domm's book presents the following diagram (9, 47, 197) and then fleshes out each of these main three components of content creators, engagers, and distributors.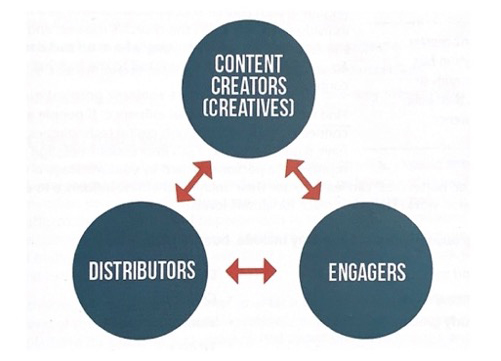 When your nominating committee seeks to fill positions of church leadership, have them create the three categories of content creators, engagers, and distributors. If that seems too extreme, have your evangelism team (does your church have one?) operate from this paradigm.
Consider the apostle Paul, who traveled much of the world and "became all things to all people so he might win some," and how Paul would relate to today's digital world. What spiritual gifts would Paul list in light of our new reality? How many young consider themselves to have the gift of administration or prophecy or tongues? But how many could use their native online presence as the eyes and ears and mouth for God online as they share Jesus with others.
Instead of wasting time on Facebook, what would it be like to put a reasonable limit on your time and develop relationships, and then share what is deeply important to you? What if you listened to what others were saying and asking, and then turn to God for responses of empathy, encouragement, and hope? Think of the time saved that you used to spend driving to the church and hoping certain people would show up to the meeting, and then use that time to connect with more people who place themselves on social media for multiple hours each day.
In the first few pages of the book I found myself distracted by the definition for "disciple" and the stated goal of "becoming a church member" (23). The top-down model of "Digital Discipleship & Evangelism Ecosystem" (13) raised questions for me because it put the NAD at the top (is there no GC?) with the NAD creating content that the union, conference, local church, and individual are to use in their own sphere. I find that ironic since the NAD often gleans from what is happening in local churches—a more integrated model than top-down. But as I continued the book, I found the materials and insights beautifully bountiful and practical. Individuals and congregations who do just a few of the things suggested would find themselves in new and purposeful territory. I felt like a beginner holding a helpful manual for whatever degree I was ready to commit.
The book has pithy one-liners, such as "content creators are no longer limited to the pastor" and "become social media ambassadors for the gospel" and "redefine our notion of success to include metrics outside of attendance and baptisms" and "we're all publishers now" and "go where people are; they are online." Domm included diagrams, worksheets, planning steps, helpful lists, and training content.
You may have already started the process. COVID may have pushed you. Continue to take steps. We aren't going back to the way things were, so catch up with the way things are and where they continue to go. This collection provides a great boost to do so.
---
| | |
| --- | --- |
| | Steve Case, PhD, sports his Sabbath socks on Facebook and also spends a lot of time on Zoom. |