Small Seed Big Tree
My name is David Bermejo. I am the director of the Orlando Spanish Adventurer Club in Orlando, Florida. I would like to share with you a story that is not only inspiring and encouraging, but a first-hand example of the great things ministry work does for our
communities.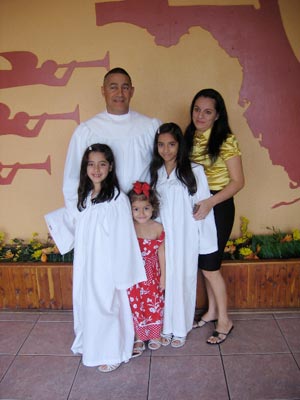 It all started with the Lopez family. A Pentecostal family of 5: Carlos, Julie and their three daughters, Valentina, Michelle, and Marianna. Our pastor, Hermes Taveras and his wife Estela lived in the same neighborhood as the Lopez family. Estela tried, time after time, to tell Julie about Jesus but couldn't because Julie would try her best to avoid Estela. Finally, Estela got her chance and was able to speak to Julie one afternoon. Both had something in common; their were three girls in each of their families. So that's when
Estela and Julie bonded and became friends. So did their families.
Eventually, Estela told Julie about our Adventurer Club. This was the start of a new beginning for Julie's family. One Sabbath afternoon, Julie's three girls came to the church to visit the Adventurer Club. They immediately fell in love with it. They would come home every week and tell their parents about the great things they did and learned while in attendance. Julie would listen to them and became intrigued by their excitement and energy for the club. This prompted her to start coming to the church. After many Sabbaths in church listening to the wonderful words of Christ, God moved
her heart to be baptized and become a part of the Seventh-Day Adventist family.
Following in their mother's footsteps, Julie's two eldest daughters started taking special baptism classes through the Adventurer Club. Carlos, their father, wasn't very excited about this change in lifestyle and was very hesitant to accept these newfound beliefs his family was practicing. He decided to throw a curve ball at the situation. His plan was to invite the girls to their favorite play-place, complete with arcade games, slides, and flashy lights. This surely would stop this church-going activity his family was beginning to adopt. So he rounded them together one Saturday afternoon before the start of the Adventurer Club and asked them if they wanted to go and have some fun. To his great surprise, the girls said no and that they wanted to attend the Adventurer Club instead. Carlos' plan had failed.
Little did he know what God was about to do in his life. Carlos is part of the United States Army and is based here in Orlando. He would soon be called for duty in Afghanistan as a medic. Deep down inside Carlos' heart, the Holy Spirit was quietly working. He knew his family had changed for the better and he longed for a change too. He began to ask questions and study the Bible. Not before long and to his wife Julie's astonishment, he announced that he wanted to be baptized before he left for duty, which was quickly approaching that weekend. His girls, who were ready to be baptized, decided they wanted to join the family of Christ as a family and that Sabbath before leaving, they were baptized in a touching ceremony that moved everyone in attendance.
The story doesn't end in the waters of baptism, but continues onto the sands of the Middle East. We gave Carlos some Amazing Facts Bible Study guides along with a Bible to take on his journey. Little did we know that the next time we heard from him, he would be giving us good news that his captain was also a Seventh-Day Adventist. And not only the captain, but that a group of other Adventist soldiers were studying the Bible regularly.
God truly had a plan for the Lopez family. It started with an opportunity and two little girls giving their life to Christ with the help of the Adventurer Club, which in turn prompted a radical change within a family in our community. It is easy to see how God
used the Adventurer Club as a tool to guide a family into the light. I believe He has a lot more plans for each and every one of our churches. I greatly encourage each church to open an Adventurer Club, if you don't already have one and watch God work through
the lives of our children's shining faces.
May all the glory and honor be to God.
Sincerely,
David Bermejo