Youth Pathfinders Adventures Camp News Updates
LGBT Summit & YPAC Committee Information
LGBT Summit
Summary
Our 2015 Summit will provide an opportunity for Union and Conference Youth Directors and others who work with young people to focus on how they can minister to all the youth in their churches and communities. The goal of the summit is to equip youth leaders with practical skills for authentically engaging with teens who identify as LBGT or are questioning their sexual orientation or gender identity. Participants will explore questions faced by today's youth leaders, put their new-found knowledge into use by engaging in active learning, and formulate an action plan for going forward.
Schedule
- Session 1 – "How to Talk About It"
- Session 2 - "In God's Image"
- Session 3 - "How to See and Hear"
- Session 4 – Panel – Q & A
- Session 5- "The Cost of Inaction"
- Session 6 - "Summary and Going Forward"
- Session 7 - "The Challenge
Dowload the entire detailed schedule
LGBT Summit Registration
( ESSENTIAL for Free Meals!)
In order to provide some free meals for our LGBT Summit attendees, we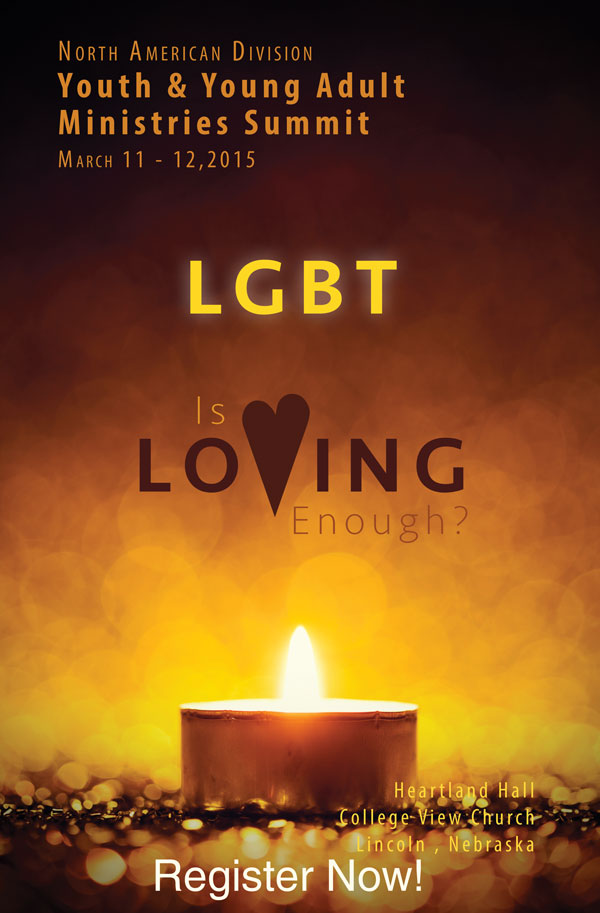 must know you are attending!
Registration: Summit Only(if you are also attending YPAC Meetings, please follow links and information in the next section)
2015 YM Summit Registration
Advertising The Event:
PDF
- low res (9 MB)| hi res (28 MB)
JPG