Youth Pathfinders Adventures Camp News Updates
A Word From the Director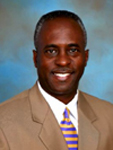 In about four weeks youth, young adults, and their leaders will convene in Greensboro, NC for our Just Claim It Youth Prayer Conference and Youth Ministries Leadership Summit March 7-11, 2012. I am reaching out to you because I need your help in getting the word out to others about something significant that will take place during this experience. In addition to leadership training, worship, the Garden of Gethsemane experience, community projects, networking, etc. we plan to introduce our latest new resources "The Youth Ministries Formula YM2". This guide shows youth how to turn their interests into multiple ministries and manage them. "The Jesus Way to Youth Discipleship" (JWYD) - This resource not only provides Jesus' way as a model but challenges each person to "chOOse12". Upon completion, each person signs a commitment to choose their own 12 to mentor and lists 12 things they can do to impact their community. The chain goes on an on until there are hundreds or even thousands of youth disciples connected to you and your church. During the pilot test, pastors got really excited about the possibilities for their youth. Last but not least, we have endorsed a program that is open to the public but directed by all SDAs called "CLYPonline" Certified Lay Youth Pastor (online training). Now every church can have a trained, lay youth minister to effectively shepherd youth in your church and community www.clyponline.com.


I am inviting you to attend JCI3 with 12 youth from your church/community, or even 1 person who will catch the spark and create a blazing fire in your area for Christ. My concern is that as we continue to talk about how urgent the problems are among our youth and young adults, well, talk is just that, talk. I'm appealing to you to help us do something by tackling the problems head on – "For greater is He that is in us than he that is in the world…"


Thanks for listening. If you need more information please visit www.jci3.org or following JCI www.chOOse12.net. The early-bird registration has been extended for your convenience.

Blessings,

Pastor JB

From Pastor Manny

Pastor Manny's Travel Calendar
February 10-12  ReCharge, Honolulu, Hawaii
February 13-14  The One Project, Seattle, WA
March 3-6  YPAC Committees, Greensboro, NC
March 7-11  JCI3, Ignition, Leadership Summit, Greensboro, NC
March 21-24 NAD Campus Ministries Convention, Southern Adventist University
March 26-27 NAD Campus Chaplains Advisory



JCI Thoughts -- My family and I are looking forward to JCI3, Ignition and the Leadership Summit coming up next month. My girls have formed their "official" musical group called 4Christ and they will be singing at JCI3. My home church is also making plans to attend, I know the 42 passenger bus will be making the 670 mile roundtrip from Fulton, MD to Greensboro, NC. Our teens, youth and young adults at New Hope Church are buzzing about JCI3. I know that many of our church Pastors will also attend. Several Conference Presidents and Union Officials will also be in attendance. I also talked to Elder Dan Jackson, our NAD President and he will be there! I think that's pretty cool.... but most importantly, I know that many of teens, youth and young adults are making plans to attend. They are the ones that make this gathering what it is. There is still time to register and receive the early bird rate. SO spread the word! Tell your friends and I will see you in Greensboro!


Latino Youth Initiative LAUNCHED! The weekend of January 27-29, over 2,000 teens, youth and young adults gathered in San Antonio for the launching of the NAD Latino Youth Evangelism initiative called "Changed: Real Lives in a Real World". The program included Hispanic leaders from across the Division, Pacific Press Publishing Association, Texas Conference, Southwestern Union, the North American Division Multilingual Ministries and Youth & Young Adult Ministries. This Youth Evangelism Initiative challenges Adventist youth & young adults to do evangelism but also provides the necessary tools to do it. A Youth Evangelism Kit has been prepared and can be ordered through Adventsource. The week of October 13-20, 2012 Esperanza TV will broadcast the Changed Real Lives in a Real World series LIVE from Orlando, FL. The speakers for this series include Jose Rojas, Jose Cortes Jr, Yami Bazan, Carlos Camacho, Carlos Acosta and Willie Ramos. For more info go to: http://www.facebook.com/changedlatinoyouth


Manny Cruz Jr

World Prayer Congress (JCI/Summit/Ignition)

Prayer Initiatives BEGIN For Just Claim It


We are surrounding JCI/Ignition/Summit with Prayer!  Can you join us in one or more of the following?
1). Join us nightly or weekly for the 40 - day Prayer Initiative.  Friday night.  Teleconference, ustream, or tweet into the conversation!
JCI3.org/prayer
2).  Visit our Youtube channel and join these teens & Young Adults in praying for the event
Youtube Channel:YouthMinistryNAD
Video #1
,
Video #2
,
Video #3
3).  At JCI3 Join us for Prayer Walls, Gethsemane Experience, Early Morning Prayer Devotional, Prayer Challenges, Prayer Tag, and more.  More info:
JCI3.org/prayer
EARLY BIRD REGISTRATION EXTENDED! Due to the overwhelming request for more time from local church youth to raise funds to attend, the JCI/Youth Leaders SUMMIT Team have decided to extend the earlybird registration through
Feb 10
.  Please do all you can to promote and encourage as many youth and their leaders to attend this powerful spiritual experience in Jesus.
REGISTER TODAY:
http://www.jci3.org/register-housing
UPDATED MUSICIANS INFORMATION!
Whether you're singing in the choir, playing in the orchestra, or wanting to catch your favorite musicians, the latest bios, pics, and information are here

PRE/POST CONVENTION HOTEL ACCOMODATIONS -- If you are arriving for pre-convention meetings or staying after the Convention, please use the
information below to get the Convention rate at Sharaton Four Seasons
1)      Call the Sheraton hotel directly – (336) 292-9161 or (800) 242-6556
2)      Follow prompts as directed by automated system. (i.e. "Press 1" for reservations…etc, etc.)
3)      Once connected to an assistant for reserving your room, indicate that you are interested in the "Just Claim It" or "The Seventh-Day Adventist Conference" room rate (which is $112.00 plus tax per night)
4)      Rooms that are offered at this rate will be a single king size bed or double bed



Ignition @ World Prayer Congress -- Plans are coming along well for Ignition 2012. Our speakers, special guests, and presenters include
Timothy Gillespie, Jose Rojas, Michaela Lawrence, Ron Pickell, Manny Cruz, Tara VinCcross, Vertice Ministry, Dan Jackson-NAD President, and many others. Join young adult ministry leaders from around the US and Canada to share, worship, network, talk, play, pray, connect, study and of course grow your ministry skills. Each night the Ignition Cafe will be open for young adults. Register now!



Ignition -- Won X One: Transforming The Campus One Student At A Time
1). Pre JCI3 campus ministry training in local churches. If you would like to learn how to launch a campus ministry program on your campus you might want to get in on the pre JCI Campus Catalyst training in one of the local churches. For more information go to: www.acflink.org and click on JCI3
2). On campus outreach scheduled during JCI3 at UNC Greensboro campus. If you want to get out there and meet some students and share what Jesus has done for you — then check out Campus Outreach at JCI3 when you get here.
3). Daily workshops on how to launch a campus ministry from your local church as well as sharing your faith on campus will be presented during JCI3.
4). ACF presentations during Ignition conference.


Distinguished Youth Award -- Does your club, church, or school have a young person who exemplifies leadership, involvement, academics, and leadership?  If so, contact your conference youth director -- He/She has the opportunity to nominate one youth for the Distinguished Youth Award.  
Criterion Details & Local Youth Nominee Form
Conference Nomination Form

Highlights
Let's Move / In Step for Life
The North American Division surpassed it "million miles" goal in 2011!  Stay tuned for specifics on the Pathfinder goals achieved within that NAD inter-departmental initiative!


AdventSource Youth and Young Adult Ministry Stimulus Package --
Campus QuickStart Guide, Mission Lifeguard Kit, Bridging the Gap, Real, Who Cares, Valuegenesis2 and other Youth/Young Adult Ministry resources are available, many at greatly reduced "stimulus" prices.  See the
order form
for details.  This isa limited time offer!




2012 ReCharge Dates:

February 10-12          Honolulu, Hawaii
March 23-24           Chicago, Illinois                                    
May 25-27                  Lincoln, Nebraska (Spanish)           
June 8-10                    Berrien Springs, MI (Spanish)           
Date TBD                     Baltimore/DC Metro Area                        
September 21-23         Minnesota (Spanish - Pathfinders)                                   
September 28-29         Vancouver, British Columbia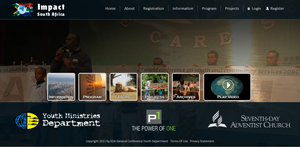 (GC) General Conference Youth Depart Calls Us to Impact Africa
Lions, Tigers, Mission, Praise, and Service.  
Are you being called to serve?  
Link
Mission Lifeguard Complete Life Kit is available! Mission Lifeguard can help equip your church to save the lives of young people who are drowning. It's about church members reaching out to young people and assisting them in connecting with Jesus, the abundant life-giver. Order kits here

ACF
Connect with ACF leaders and campus ministry training at one of these up coming division wide events:
Quick Start Guide:  Campus Ministries Now available from AdventSource.
On Facebook --
According to A Allan Martin on the
NAD Young Adult Ministry Advisory Facebook page
, Adventists aren't the only Christian groups losing their young adults.  
This article
shares how intergenerational relationships are key to young adult retention.  Do you have an intergenerational friend in your church?

Living It: High School Public Campus Ministry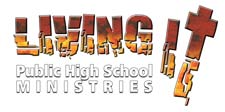 "Living it"  is the new web-based Discipleship Resource Center for public high school ministry that will be up and running by early March. There will be resources for: visiting high school students in their world--including on campus, nurturing your personal spirituality, sharing devotional experiences, creating outreach ideas, along with resources for dealing with teenage at-risk behaviors. The site will feature video testimonies from high school students and leaders about how they have been used by God to reach their world.



Pilot a Pathfinder Honor -- If you would like to help pilot this new initiative or the new Pathfinder honor in Campus Ministry in your club, church or Conference or have resources to share or ideas to develop please contact Pastor Scott Ward, the NAD Public High School Campus Ministries Coordinator. Pastor Scott and his team are also planning to film 3-5 minute testimonies at JCI 3 for the Resource Center website. If you have a testimony to share, or know of an already great high school ministry to network with please email your story to: This email address is being protected from spambots. You need JavaScript enabled to view it. .


The "Living it" Facebook page for networking, discussions and support is already up and running--please join and contribute to the conversation!

Living It is on Facebook

Junior High / High School Youth
Realtime Faith -- once just a Sabbath School Quarterly, now its MUCH MORE! Download the App.

Pathfinders
Remembering Service -- Inter-American Division former Youth Director Eliezer Melendez, passed to his rest on January 18, 2012. The testimonies shared in his memory show the thousands that he touched for Christ during his lifetime of service.  We thank God for his years of ministry and eagerly await the resurrection.  He was living in the Potomac Conference with one of his children.

Ministry Changes
We welcome Denison Sager (Iowa-Missouri) and Geoff Starr (Mountain View) to the Youth Director leadership team in the North American Division.  

If you are new to conference leadership in the North American Division, please contact us for a One-on-One orientation and other events and services that we provide you to help resource you as you begin ministry in this part of His field.

Where Did the Event Calender Go?
In an attempt to shorten the monthly newsletter and focus on ministry stories, we have transferred all the events in the calendar to the AdventistYouthMinistries Online Calendar.  If you have an event to add, please email This email address is being protected from spambots. You need JavaScript enabled to view it. or This email address is being protected from spambots. You need JavaScript enabled to view it. .

In Conclusion
Thank you for your continued prayer for each other, for your ministries, and for your conference, union, and division/world leadership.  We covet your prayers. "Pray for me, and I'll pray for you....."